Bal country du 19 janvier 2019 à Boiry-Sainte-Rictrude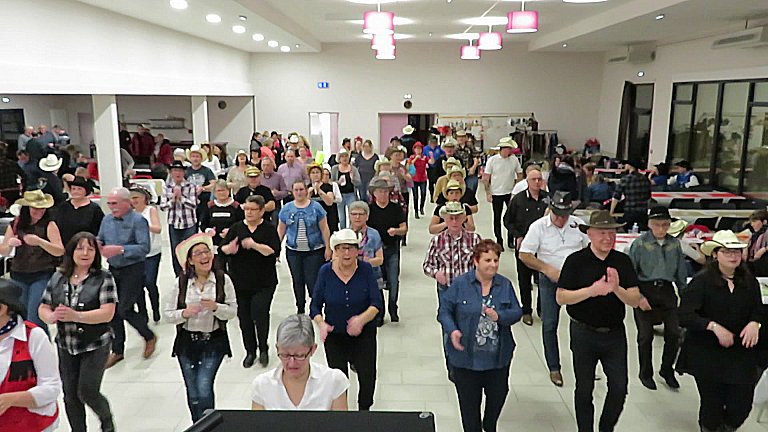 Le samedi 19 janvier 2019, le Lysaa Country Band a été invité à animer un bal country par le club des Marilyn's Country Dancers de Marilyn Demailly. La fête avait lieu dans l'Espace Boirysien, rue de l'Eglise, à Boiry-Ste-Rictrude.
Le bal commence et se termine sur des enregistrements mp3, et le groupe intervient en quatre fois pour des danses sélectionnées dans son répertoire en accord avec Marilyn Demailly, et dont voici la liste :
Boy & girl thing
Dixie Girl
The trail (Trail of tears)
Better times
Lindi Shuffle
Jambalaya
Galway girl
P3 (Take it)
Home to Louisiana
The boat to Liverpool

Amity (Love me some you)
Little Wagon Wheel
3 day road
Hey Girl
City of New-Orleans
Patsy Fagan
Day of the Dead
Mary's Jive (Hello Mary-Lou)
Country Roads
Ghost Town
Soirée festive très réussie, qui s'est étendue de 19 h à 1 h du matin, avec plus de 200 personnes dans la salle et/ou sur la piste. Huit vidéos ont été tirées de cette soirée et placées sur Youtube, chaîne Lysaa62, elles sont accessibles dans la page Spectacles.